Beetlejuice Box
$

60.00 Sold Out
The next box in our Occult Classic Series is...
BEETLEJUICE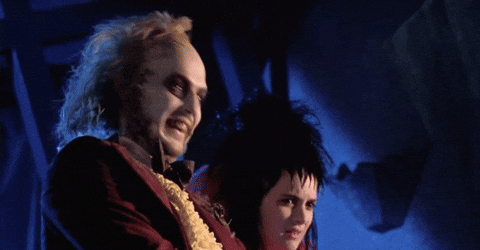 "𝕷𝖊𝖙'𝖘 𝖙𝖚𝖗𝖓 𝖔𝖓 𝖙𝖍𝖊 𝖏𝖚𝖎𝖈𝖊 𝖆𝖓𝖉 𝖘𝖊𝖊 𝖜𝖍𝖆𝖙 𝖘𝖍𝖆𝖐𝖊𝖘 𝖑𝖔𝖔𝖘𝖊!"
Beetlejuice was released on March 30, 1988 starring Michael Keaton, Winona Ryder, Geena Davis, Catherina O'Hara, and so many other stars. It was directed by the one and only Tim Burton! It won the Academy Award for Best Makeup and three Saturn Awards including Best Horror Film. Beetlejuice has become a cult classic and still is popular to this day!
---
𝕴𝖙𝖊𝖒𝖘 𝖎𝖓𝖈𝖑𝖚𝖉𝖊𝖉 𝖎𝖓 𝖙𝖍𝖎𝖘 𝖇𝖔𝖝 𝖆𝖗𝖊...
👻 No Feet Bath Bomb
Scented in Iced Guava and Green Tea
Infused with Hemp Seed Oil
📔 Handbook for the Recently Deceased Bath Bomb
Scented in Espresso
Infused with Safflower Oil
🔥 Dante's Inferno Whipped Sugar Scrub
Scented in Fruit Loops
Infused with Hemp Seed and Safflower Oil
👑 Miss Argentina Body Lotion
Scented in Caramel Apple
Infused with various oils, butters, and extracts
🕯 Never Trust the Living Candle
Scented in a blend of sparkling grapefruit & frankincense. Bright top notes of champagne & orange peel introduce the heart of grapefruit, finishing off with notes capturing the true essence of frankincense.
Custom and handcrafted by White City Devil
💌 Keepsake Beetlejuice Postcard
Valued at $80+
---
Note: Boxes begin shipping on May 9, 2022
---
✨DISCOUNT CODES CAN NOT BE USED ON THIS ITEM ✨
Share